Youth Chapter Program
Competitive Math * Debate * Walkathon
Dhaan Youth Chapter

was launched in Fall 2020.

Dhaan Youth Chapter was launched in Fall 2020.  Since its inception the chapter has successfully launched and conducted many programs focusing on leadership and skill development.
Mission:
Foster the spirit of giving through Leadership and Skill development Programs. Identify ways to contribute, lead and execute programs with the guidance of adult volunteers.
Programs:
Speech and Debate program 
North American Youth driven Sourashtra Dhaan Walkathon 
Competitive Math program
Amit Konda
Dhaan Youth Chapter Founder/Executive Director
Debate and Extemporaneous Speaking Coach
Amit Konda is a Senior at Plano West Senior High School. He enjoys competing in speech and debate, mainly focusing on congressional debate, and extemporaneous speaking. He is the Senior Debate Team captain. Amit has had a wide variety of achievements in this sphere, ranked 1st in the nation at multiple national debate tournaments, top finalist at Tournament of Champions and Texas State tournament, and winning the NSDA district championship. When he is not debating, he loves to play the clarinet, which he plays for the Dallas Asian American Youth Orchestra (DAAYO) and Dallas Chinmaya Mission Organization. He is the Senator for the Texas Junior State of America.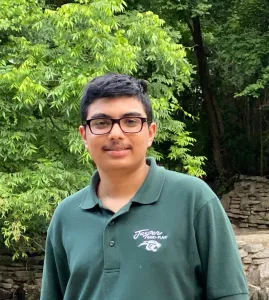 Jayanth Muthu
Competitive Math Coach

Jayanth Muthu is a high school Junior at Plano West Senior School, Plano. He is a NSF Competitive Math Coach. He has competed in multiple math competitions since 3rd grade. Some of the competitions he has participated in include: Math Olympiads; Amc 8,10 and 12; Mathcounts; Trigstar; and Mathworks. He has multiple honor rolls in both AMC 8 and 10 and was a gold medalist in Math Olympiad. He was also part of his school Mathcounts Team and represented at county level. In addition he was recognized by Duke Tips for his 790 on the SAT in 7th grade.
SDO Youth Chapter Founder/Executive Director Amit Konda Interview